"This army does not retreat! I know no better place to die than right here!"
--Maj. Gen. George H. Thomas
Battle Flags unfurl along Stones River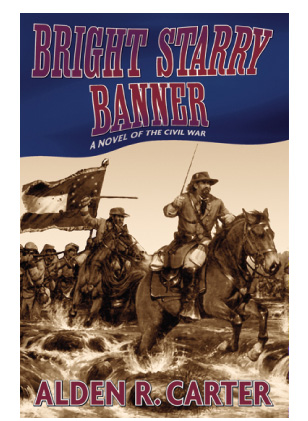 Winner of the John Esten Cooke Fiction Award
from the Military Order of the Stars & Bars

Starred reviews from Kirkus and Publisher's Weekly

Top Ten Civil War novels from the Civil War Librarian

Before Gettysburg, there was Stones River....

December 1862. Two great armies face each other on the eve of the battle of Stones River northwest of Murfreesboro, Tennessee. Immerse yourself in the savagery, madness, intrigue, and glory in this sweeping novel by Alden R. Carter. Hailed as the truest picture of Civil War combat since Joseph Pennell's novels of the 19th century,

Bright Starry Banner

is destined to become a classic of Civil War fiction.
Both armies carried "Bright Starry Banners." The Blue army's flag had waved on the captured battlements at Yorktown and flown defiantly over Ft. McHenry in the War of 1812. The Gray army carried a new flag but one already steeped in the blood of Bull Run, Shiloh, the Seven Days, and Antietam. Both sides saw themselves as heirs to the nation's founding ideals; both sides believed that God had ordained for them victory and a blessed future. Neither side could afford a great defeat.
The campaign that would rip the vitals out of the Confederacy and bring America's greatest war to an end began with a little remembered battle far from the heights of Vicksburg or the bloody fields of Gettysburg. Neither general would achieve enduring fame, neither army would parade through the capital of a grateful nation, but for three days at the turn of 1862 the fate of America's great experiment in democracy lay with them.
Murfreesboro, Tennessee, December 30, 1862: The 43,000 men of General William Starke Rosecrans's Army of the Cumberland face the 38,000 Confederate soldiers of General Braxton Bragg's Army of Tennessee. It has been a dismal month for the Union. In the east, the Army of the Potomac has suffered a devastating defeat at Fredericksburg, Virginia; in the west, Grant has failed yet again to reach the Confederate stronghold of Vicksburg, Mississippi. The Emancipation Proclamation will go into effect on New Year's Day, but after the disasters of December it seems less the assertion of a great moral imperative than a desperate attempt to shore up a crumbling cause. To save the Union, Rosecrans must engage Bragg and win.
But matters of grand strategy and statecraft are distant things to the men of the armies as they shiver in the chill evening along the banks of Stones River. The bands of both armies play, trying to lift the spirits of the men. The Rebels roll through "Dixie," which brings the response of "Yankee Doodle." Echoes of the last measure of "Hail Columbia" are drowned by "The Bonnie Blue Flag." A band somewhere out beyond the Yankee center begins a tune beloved in both armies. A Rebel band takes it up and from there the music spreads until a hundred bands join the concert. The singing follows, sweeping in a gradual swell until eighty thousand men--the largest chorus in history--join together in "Home Sweet Home."
At dawn, they will set about killing each other.
In the Battle of Stones River, thousands fall in three days of savage fighting across the winter fields and woods of middle Tennessee. Bragg uses his army like a blunt instrument, unmindful of casualties in his determination to bludgeon the Yankee army into surrender. Rosecrans is a subtler general, preferring the clever tactic to the frontal assault. But Bragg strikes first, forcing Rosecrans to wager lives with a gambler's abandon in a desperate fight to save his army. The carnage awakens the best in some men--courage, self-sacrifice, and honor; the worst in others--cruelty, cowardice, and depravity. In arenas dubbed "the Slaughter Pen" and "Hell's Half Acre," Blue and Gray together embody the virtues and failings of all humanity.
Bright Starry Banner

shines with dozens of splendid characterizations, among them General George Thomas, the Rock of Chickamauga; Phil Sheridan, who fights like "the Devil incarnate"; Leonidas Polk, fighting bishop of the Confederacy; Pat Cleburne, the Stonewall of the West; and Ambrose Bierce, a brooding young officer who will one day write

The Devil's Dictionary

.
But the battle itself is the ultimate protagonist, pulling the reader into the fury, blood, smoke, death, and utter madness of combat in the Civil War. Meticulous in its detail, epic in its sweep,

Bright Starry Banner

joins the company of the great Civil War novels of our time.
One of America's most respected writers of novels and history for young adults, Alden R. Carter turns his hand to adult fiction with

Bright Starry Banner

, showing why one critic commented: "History leaps from the page in Alden Carter's books."


Praise for Bright Starry Banner

[

Bright Starry Banner

] is the fascinating story of a ferocious three-day battle, among the bloodiest ever fought on US soil. No, not Gettysburg ... Stones River. Carter's theme — war is hell — is familiar enough, yet ever fresh when rendered, as it is here, with the kind of creative force that amounts to a sense of mission.
--

Kirkus Reviews

(starred review)

Carter's stirring fictional account of the pivotal Battle of Stones River crackles with action, suspense, and drama. The prominent historical characters fairly leap off the pages, and the common soldiers resonate with a potent humanity as they engage in acts of heroism, cowardice, and simple faith on an incredibly bloody battlefield. A must-read for Civil War buffs and fans of realistic historical fiction.
--
Booklist


This monumentally ambitious novel covers in exquisite and graphic detail one of the bloodiest… engagements of the Civil War. Carter, the author of nine YA novels and 20 works of nonfiction, is confident of his materials in his first adult novel, masterfully describing massive military maneuvers while also shifting to the viewpoint of individual after individual caught up in the horrific action…. Among the combatants was Ambrose Bierce, at age 20 a topographical engineer with Rosecrans, who witnessed horrors he would later write about: "The two lines have achieved a frightful equilibrium in the trading of death--an exchange that, if left undisturbed, might eventually lead to the last two men in the world killing each other." In a series of brilliant vignettes, Carter pays homage to Bierce's tales of the war such as

A Horseman in the Sky

.… For depiction of war [
Bright Starry Banner
] is as good as it gets.
--

Publisher's Weekly

(starred review)


Alden R. Carter brings not only Stones River, but also all Civil War conflict to life in a manner that no novelist since Joseph Pennell has done. Instead of parading one-dimensional generals calmly pontificating or spewing empty clichés, as if they were addressing a Boston lyceum rather than under fire, he puts real language in the mouths of real human beings . . . It's a wonderful book all the way around.

--Peter Cozzens, author of
No Better Place to Die: The Battle of Stones River


Bright Starry Banner

transports me into the thick of the Stones River campaign and enables me to see the tragic battle and its personalities in a new dramatic way. Bravo!

--David J. Eicher, author of

The Longest Night: A Military History of the Civil War


Reads like a Civil War '24' . . . Alden R. Carter has created a Civil War universe full of very human characters who scheme, dream, aspire, battle themselves and the enemy, all too often dying for their cause.

--Robin Young, author of

For Love and Liberty


Alden Carter has brought history alive with this comprehensive and meticulously researched novel. Written from the viewpoints of officers from both armies, personal stories, super-imposed upon military history, form a complex and fascinating mosaic. A must-read for history buffs--a should-read for everyone. --Lois Duncan, author of Who Killed My Daughter?; Don't Look Behind You etc.


A tour de force of narrative and research. --Bob Redman, Army of the Cumberland website


Deserves a place beside

The Killer Angels

;

Gods and Generals

;

The Thin Red Line

;

Dispatches

; and

A Rumor of War

in every American's Library.
-- Lloyd Cole, Staff Sgt, USMC (ret.) Editor,

The Mason Dixon Gazette

, the official publication of the American Civil War Gamer Club.


*****


"A frightful equilibrium in the trading of death"
by Mary Whipple, Amazon Top Fifty Reviewer, April 17, 2004

The end of 1862 ushered in a bleak New Year in which over eighty thousand men from the Union and Confederacy faced each other across battle lines outside Murfreesboro, Tennessee, sang "Home Sweet Home" in unison, and then loosed their guns and cannons at each other.... Carter uses primary sources to recreate the minutiae of this horrendous battle, and he is precise in his discussion of troop movements, the order of events, and the real actions of real people. Classified as a "novel" because the author recreates conversations which were not recorded and provides insights into what the participants may have been thinking and feeling, the book feels more like a comprehensive re-enactment than fiction.... Carter humanizes the many generals on both sides who had often been classmates and friends from West Point, showing their soul-searching and personal relationships. Lower ranking officers and soldiers reveal the extent to which this was a "generals' war," with one soldier suggesting that all the soldiers on both sides "just go on home... leaving you officers to settle things among yourselves." The inclusion of Ambrose Bierce, a Union map-maker who later used his war-time experience in his writing, serves as a fascinating motif throughout....
By the time the novel is finished, the reader is emotionally spent. Friendly fire accidents, the carnage of death by cannon, the misfires of ordnance, and the need to fire shells over the heads of their own men reflect the bloody reality of this war, while the moments of kindness which soldiers often extended to each other put a human face upon it. The descriptions are so precise, the devastation so total, the accidents so disastrous, and the role of chance so all-encompassing that the horrors of this war linger. Carter's novel is a huge achievement which should provide Civil War buffs with hours of serious study.



"Book Review: Bright Starry Banner by Alden R. Carter"

From

North-South Trader, May 2004

We have never before reviewed a Civil War novel in this magazine.

Bright Starry Banner

marks an exception because it is among the best Civil War books of its kind I've ever read. With faultless attention to historical accuracy and keen literary skill, Alden Carter has written the story of the Battle of Stones River through the eyes and words of scores of the battle's principal participants—Rosecrans, Bragg, Sheridan, Polk, Crittenden, Hardee, McCook, Cleburne, Thomas, Breckinridge, Wheeler and other notables along with lesser characters such as Ambrose Bierce and Julius Garesche. (Bierce fans will be especially thrilled with Carter's depiction of the somber Civil War author and his role in the novel.) Even Pvt. Sam Watkins is worked into the narrative as a participant in an event Watkins later described in his classic Civil War autobiography, "Co. Aytch."
Carter tempers his literary license with regard to dialogue by an obviously thorough examination of the backgrounds of the characters he portrays. Their education, social strata, religious affiliation, temperament, medical and military history, and the published record of their written and spoken words imbues the author with a sense of the main characters' language, viewpoints, and attitudes. Thus his description of Braxton Bragg makes him step out of the many photos we've all seen of the stern-visaged soldier: "Bragg, elected ugliest man in the corps by his classmates at West Point—and not entirely for his scarecrow looks, for even then Bragg was a disagreeable man—became a hero at Buena Vista…. the public's ideal of the dashing and hugely competent West Point professional: the new soldier of a nation stretching out to embrace a continent. Garesche and those who know Bragg can only shake their heads remembering the pallid, petulant martinet that is the true Bragg."
Carter's prose is rich and colorful. His descriptions of battle are so exciting that reading them is like watching a great film. Some passages are so graphic you are tempted to turn your eyes from the page: "Twenty yards to his left, a cannonball rips through the knapsack and torso of a very tall soldier, spraying possessions out his chest as if they were bizarre internal organs. The ball decapitates the next man in line, takes the hats off two shorter soldiers, and decapitates the two men in front of them. The two short soldiers—mere boys, he sees—look at their four comrades, dead in a split second, and begin to sob."
These are but two glimpses into

Bright Starry Banner

. Every page offers similar passages set within the framework of an accurate and detailed presentation of one of Tennessee's more brutal Civil War battles. If we gave rating stars this would garner all four. --Steve Sylvia, publisher

*****


A memorable take on a slighted battle --Dallas Morning News
There's an unwritten rule that prohibits a historical author from probing too deeply into an actual character's psyche. In this stunning addition to Civil War novels, however, Alden Carter steps deftly over that line and creatively illustrates the personalities of several historical personages. In a narrative tour de force, he animates the human being behind the flat daguerreotypes that populate so many histories…. Mr. Carter's account [of the Battle of Murfreesboro] is unusually rich in detail and reveals capacious and meticulous research. His knowledge of military tactics and accoutrement, cultural and social history, period attitude, behavior, and philosophy is extraordinary and rarely intrusive. His characters, both the famous and the forgotten, emerge as fully realized personalities and speak in precise period patois…. This is as fine a Civil War novel as has emerged in years. Void of romance or partisan attitude, Bright Starry Banner…opens the past in a volume that entrances and enthralls from first page to last.

--Novelist Clay Reynolds
"Book Review: A must

read for those interested in the Civil War and historical fiction"


--From
Florida Reenactors Online News Magazine
Alden R. Carter sent me an autographed copy of his novel

Bright Starry Banner

. Both my wife and I read it.
Her thoughts first:

Often times books of historical nature are dry, dusty and forgive me, BORING. Mr. Carter brings the trials and tribulations of armed conflict to life. The only thing missing is "surround sound" and the acrid smell of cannon smoke.

Bright Starry Banner

is thought-provoking material…. Mr. Carter sets forth clearly a sharp portrayal of honor and valor so highly coveted during this turbulent time in our history. In the face of certain death, stepping out to face one's destiny and dying for one's honor and State's cause. He also brings forth human failings of prejudice and the vices so prevalent in the times. Also brought to the forefront, the fact that an academic education at West Point and high social standing did not always make the best leaders…

Bright Starry Banner

by Alden R. Carter is a clearly a welcome addition to your Civil War library.

--Lorraine Niepert
My thoughts: Alden Carter described and wrote so convincingly about the battle of Stone's River (Murfreesboro) it makes you wonder if the words contained in the book were really the words of the commanders and men and actually spoken by them in December 1862. The book moves along well and will be a hit with most Civil War enthusiasts. Another thing I liked about the book was the Author's Notes. There the reader will find a few sentences about each of the commanders involved in the battle.

Bright Starry Banner

is historically accurate enough to keep the history buff interested and not so dry as to discourage the fiction reader.
-- Maj. Bob Niepert,

Florida Reenactors Online News Magazine

(www.floridareenactorsonline.com)

*****


"Well written, well researched, will be reading it again."
I was skeptical because of the cover: Modern Neo-Confederate art work and the title:

Bright Starry Banner.

But I was wrong. I've read a quite a few Civil War fictions in my life as a history teacher, librarian and Civil War reenactor. This one will go on the shelf with the keepers to be read a second and third time:

Killer Angels

(Sharra),

Shiloh

(Foote),

The Black Flower

(Bahr) and a few others.

I have visited Stones River National Battlefield Park and had a fair understanding of the battle. Alden recreates it accurately. [An]other strength of this novel is the characterizations of the privates to the generals. I never would have put on my list of people to find out more about: Bragg, Rosecrans, Hardee, Polk, Thomas et al. Now they all move to the top of the list.

The Bright Starry Banner of the title is both flags, not just the one on the cover. The grit of the battle lines and reactions of soldiers on the front rings true, from my reading of diaries and my experience as a reenactor. The generals are not gods; they are very human in Alden's novel.
What makes this book better than most CW fiction are the ideas in it. It's not all fighting; God, faith, slavery, honor, and sex are on the minds of these characters and these ideas are not the modern notions of them but are placed in the context of mid-19th century America but not constrained by it.
This is my nomination for the 2004 Michael Shaara Award for Civil War Fiction, sponsored by the Civil War Center at LSU.
--Rea Andrew Redd

A good historical novel can make you forget that it is, in fact, a novel -- a dramatization of real events. This novel certainly does that.
--90th OVI
*****


"Campaign history come vividly to life as a novel," May 12, 2005

With

Bright Starry Banner

, Alden R. Carter has accomplished a rather remarkable feat - he has written a historical novel about a major battle of the American Civil War that has all the detail and accuracy of a first rate campaign history, yet all the drama, suspense, and human emotion of a compelling novel. With his painstaking attention to maneuvers, tactics, regimental names, casualties - all the details great and small of a major military engagement -

Bright Starry Banner

contains all the elements of a top notch battle history, save for the maps. Yet by showing us the progress of the battle through the multiple perspectives of many of the men who fought on both sides; from the commanders of the army, down through division and brigade commanders, junior officers, and the fighting men, he humanized and personalized the conflict; making it a real swirling drama of ambition, terror, honor, bravery, cowardice, foolishness and farce….
Bright Starry Banner

is a book of the horror of war, and the multitude of ways that humans respond to it. It does not attempt to be anything else; there are no sub plots of romance, nothing to soften the story and give a wider appeal. It is a book for those who would see terrible history brought vividly to life and presented with all of its human emotion and drama restored to the cold facts and casualty figures of the history books.

--
Theo Logos, Amazon Reviewer


*****

Bright Starry Banner

reminds me of a kaleidoscope. As you read its many vignettes, the picture shifts, changes, swirls and comes back together in ways you don't expect. Author Alden Carter links it all: the politics, the private agendas, the personal foibles and the actual battle field maneuvers. A warning, however: he does not shrink from describing the carnage or the atrocities of war; his writing is at times so painful, I had to put the book down and take a break. Still, people in the book, from private to general, come alive and you love or hate them passionately by the novel's end.
--
Reviewed by Amye M., Fort Mill, SC, for the Public Library of Charlotte & Mecklenburg County
*****


No one could have prepared me for the impact of this writer's depiction of how it was to be there. I had read reviews and excerpts, and yet had no idea how real it would all become in less than an hour. Alden Carter writes masterfully; his accuracy is unimpeachable, his research complete, his prose detail terrifying and evocative. This history in novel form leaves indelible images and demands a second and perhaps a third reading.

Bright Starry Banner

has a place beside Shelby Foote in my library. --G. Johnson, Amazon Reviewer



A Note from the Author


For twenty years before starting

Bright Starry Banner

, I wrote for children and young adults. It was good work, I like to think important work. But entering my fifties, I wanted to wrestle with a bigger theme. There is, of course, none bigger in American history than the Civil War, a conflict whose repercussions continue to influence—and often bedevil—the political and social atmosphere of our country.
Any writer attempting a novel about the Civil War must confront not only the immense dimensions of that struggle, but also the mythology that has accumulated in the 140 years since the war. At times that mythology obscures the truth, at other times it reveals truth like no list of battle or hospital casualties ever can. A historian can try to ignore the mythology, but the novelist cannot because he or she is about to add
—
for good or ill
—
to that immense store of yarn, legend, interpretation, reminiscence, and tall tale.

In

Bright Starry Banner

, I have tried to present not only a great battle but also the terror, courage, and—not infrequently—the madness of the participants. It has taken me considerably longer than I expected, but even totaling up the years, frustrations, and many a good night's sleep lost, it has been an honor.


Best wishes,
Alden R. Carter
ISBN 1-56947-381-1
464 pgs trade paper 6x9/$15.00
Soho Press
853 Broadway, New York, NY 10003
212-260-1900 --- http://www.sohopress.com
Publicist: SallyAnne McCartin & Associates 860-435-1900
Distributed by:
Consortium Book Sales and Distribution
1045 Westgate Drive, Suite 90
St. Paul MN 55114-1065
Phone: 800-283-3572, local 651-283-3572
Fax 651-221-0124
PUBNET (SAN 2006049)
www.cbsd.com

Available from Ingram Books, the publisher, or your local bookseller.