A girl & her dad tell
of her triumph over asthma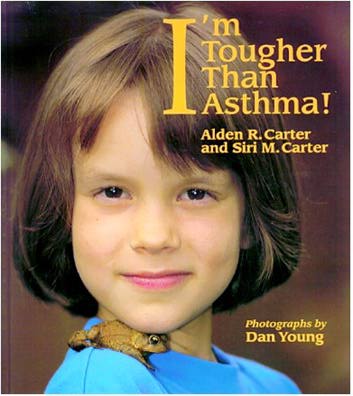 Nominated for NCTE's Orbis Pictus Award
An American Bookseller Pick of the Lists
A Wisconsin Library Association Outstanding Children's Book
A Cooperative Children's Book Center 1996 Choice
Recommended by Parent Books
Recommended by mediaconsult.com
Recommended by the Directorate for Educational and Human Resources Programs on its Science, Books, & Films Best Books List
Recommended on Allergies & Asthma, a web site maintained by the Beverly Public Library
Recommended by the Childhood Asthma Task Force, Genessee Valley, MI
Recommended by the Southwest Wisconsin Library System Special Needs Department
Eight-year-old Siri loves to sing, play baseball, and catch toads. She won't let her asthma stop her! In her own words (with a little help from Dad), she tells how she was first diagnosed with asthma at age three and how she is learning to understand and manage her condition. Siri's spunky, informative account will help other children "who are tougher than asthma but who may not know it just yet." Notes at the back of the book answer common questions about asthma and list useful resources.
"With appealing photographs, Siri Carter's story of life as a kid with asthma will inspire other young asthma sufferers."
--American Bookseller
"Siri ...the engaging optimistic voice of the text...simply and clearly explains what happens when you have asthma, what it feels like to have an attack ('like this great big animal--a tiger, maybe--was sitting on my chest'), and what can be done to manage the condition ...the photos are...unaffected, homey scenes. The balance between basic information and personal story seems just right." --Booklist
"A great book for young people with asthma and allergies. I'm Tougher than Asthma supports what we've been telling people for years, 'don't try to tough it out, get tough with asthma!'" --Nancy Sander, President, Allergy and Asthma Network/Mothers of Asthmatics
"[An] indomitable girl's comments about living an active life regardless of asthma"
--Cooperative Children's Book Center
"Large, well-composed, full-color photographs follow the text closely, showing the child's family, activities, and medical treatments. The first-person text flows naturally. An appendix answers common questions and offers a list of resources and books."--School Library Journal
"In words and color photographs, how to live fully and how not to be afraid. An excellent book for parents and children." --Children's Book Review Service.
"A valuable help for families in which a child--and the whole family--live with asthma."
--Church Media Library Magazine
"This upbeat story of Siri's everyday life will prove encouraging to other asthma sufferers, their families, and their friends." --Library Lane
"Reassuring and informative" --Parent Council
"A picture book that is great for the young asthmatic child and also for all children to learn about the handicaps, feelings, and problems of their classmates. A good addition to the "Everybody Counts" program."
--Catholic Library World
"An informative, well-written book [that] will help young asthmatics gain confidence in themselves and their abilities.
--Christian Library Journal
"Excellent...With the rise of asthma in our society this is sure to get a lot of circulation."
--South Jersey Library Cooperative
"Written by a father and his eight-year-old daughter...in her own determined voice."--Pediatric Mental Health
"A strong role model for children once stereotyped as weak and fragile." --BayViews
"[A] positive message of empowerment." --Horn Book
"[I'm Tougher than Asthma] gives incredible insight into the life of a young child with asthma. An excellent [book] to introduce any child or classroom to a sometimes frightening and misunderstood illness." --river.findlay.edu
"Accurate, realistic, and could be comforting and reassuring to a child who, like Siri, has to cope with asthma."
--Provident BookFinder
"Engaging mix of first-person text and colorful photos."
--Parents' Page
This is the best book I've read about asthma."
--Fort Worth Christian School Book Review Group
"Told in Siri's own words... this is as much a book about a child who feels empowered to deal effectively with the illness... as it is about the illness itself.... An upbeat book, full of clearly presented information. The appendix, providing answers to FAQs about asthma and a resource list, helps make this book one of the best and most complete I have seen on illnesses and disabilities." --Children's Book and Play Review, Brigham Young University
"In this book about a real girl and her family, asthma is made understandable for children."
--Journal of Bibliotherapy and Reading


Albert Whitman & Co. Hardcover $14.95
Available from the author.