Stretching Ourselves: Kids with Cerebral Palsy
By Alden R. Carter
Photographs by Carol S. Carter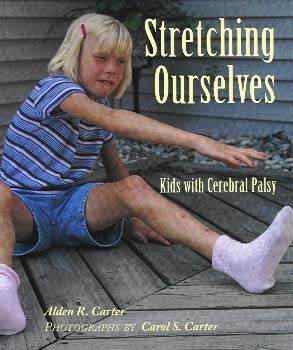 Winner of an Oppenheim Toy Portfolio Gold Seal
Wisconsin Library Association Outstanding Book
Recommended by The Journal of Bibliotherapy and Reading
Recommended in Reach
Recommended by Parent Council
Recommended by the Southwest Wisconsin Library System Special Needs Department

Recommended by Kennedy Krieger Institute, Baltimore

"The Carters tell the story of three school-aged kids with very different degrees of cerebral palsy and how they 'stretch' themselves physically, socially, and intellectually to become active doers. This photo essay captures the spirit of kids who work hard at simple tasks, but who keep working to do as much as they can whether it's playing ball, riding a horse, turning pages in a book, or communicating via computer. A book worth sharing with kids in main-streamed classes as well as kids with cerebral palsy."
--Oppenheim Toy Portfolio

"In a straightforward essay, Carter talks about three children with cerebral palsy, a disease that affects the control of voluntary muscles. Emily, Tanner, and Nic have varying degrees of CP. They are shown doing regular kid things--going to school and playing with friends--as well as undergoing physical therapy and using a computer to communicate. The color photographs show the activities in direct, uncluttered images that children will recognize. Without minimizing the difficulties (the children 'must work hard to learn things that come easily to others'), Carter puts CP in the context of the child's whole life: Tanner has a step dad and a little brother; Emily practices staying calm by caring for the family dogs; Nic likes to go bowling with his cousins even if his hands don't always do what he wants. A page of information about CP and a resource list are included." --Booklist

"With many children attending schools with varying degrees of cerebral palsy, this solid introduction to the disabilty provides just enough information for younger children or to begin a discussion."
--School Library Journal
"This wonderful book will help to create understanding in others." --Mid-Del Schools Book Review Program, Midwest City, Oklahoma.
"Text and photos show everyday activities (cheerleading, swimming, schoolwork), challenges, and positive attitudes. The inclusion of adults with CP working at various jobs is an added bonus."
--The Horn Book
"A photo essay that allows the reader to become a visitor in the lives of three children with cerebral palsy. The highly reader-friendly text successfully integrates information about the condition, its various forms and treatments, with the everyday activities, joys, sorrows, and dreams of Emily, Nic, and Tanner... The photographic illustrations are full of believable, unstaged action.... As an instrument to promote understanding and acceptance... it succeeds admirably."--Highlands Regional Library Cooperative
"An extremely well-written book containing photographs of three children who have cerebral palsy....Sensitively written, the text shows the positive spirit that these children exhibit. The photographs will help readers see just how much these children are like other children."
-- Library Talk
"An eye-opening look at the everyday lives of children with cerebral palsy." --Library Book Selection Service
"The children are portrayed through color photographs that show them at school and at home and reveal both their frustrations and personal achievements. Several pages introduce adults with CP who are models of successful people who just also happen to have a disability.
Stretching Ourselves
will encourage students to stretch their understanding of individuals with disabilities."
--North Carolina Department of Instruction
"A book that should be read by all children."
--Mark Twain Elementary School, Carson City, Nevada.
"Wonderful"--Sanger Unified School District, Sanger, CA
"Excellent" --Southeastern Pennsylvania School Library Book Reviewers
"A great book for any age" --
Book Buzz
"An excellent job of showing and explaining [cerebral palsy]. The color photos are outstanding."
--Norfolk Public Schools
"Excellent" --Lincoln Public Schools, Lincoln, NE
"Excellent" --J. E. Harrison Middle School, Pittsburgh, PA
"Asks us to extend our acceptance towards children with cerebral palsy." --
BayViews
"Carter does an excellent job of portraying how these children live with their disability but does not minimize the difficulties they face. A great book to start a discussion."
--South Jersey Regional Library Cooperative
"The author provides an understandable explanation of what CP is and how these children and their families cope with this situation in a positive manner."
--Tucson Unified School District
"A great photographic essay"
--
The News Dispatch
, Michigan City, MI
Highest ratings --Delaware County Library System
"Meet Emily, Nic, and Tanner. All three of them have cerebral palsy, each in quite a different way. The beautiful color photos and story-style text provide a clear and sympathetic understanding of the way the disability affects the lives of these kids in normal families. It is reassuring to see them loved and cared for by their parents and siblings as well as receiving expert support and education from professionals in their communities. One would wish to see that kind of life for every child with or without disabilities."
--Christian Schools International
PLEASE NOTE
Sadly, books go out of print.
Stretching Ourselves
enjoyed a good run as a commercial book.
The author hopes to see the book returned to print through a specialty publisher or a group concerned with cerebral palsy education. He would greatly appreciate suggestions from readers.