FROM HOLIDAY
HOUSE
WHAT HAPPENS WHEN YOU
MIX LOVE AND FOOTBALL?
THE UNPREDICTABLE...
THE OUTRAGEOUS...
EVEN THE SWEET...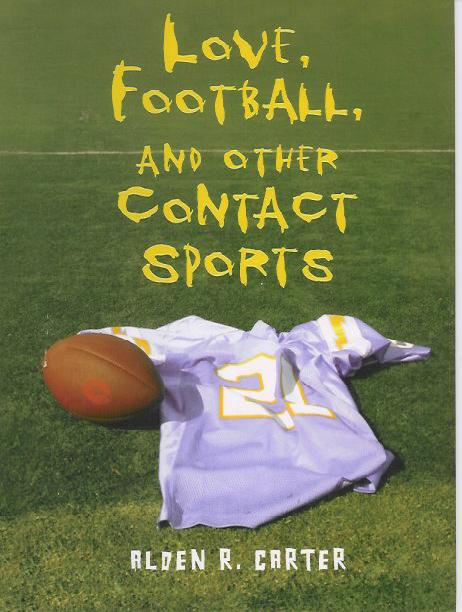 Booklist

starred review


A

Booklist

Top 10 Sports Books for Youth


A Bank Street Best Children's Book of the Year
Wisconsin Library Association Outstanding Achievement Award

East Lyme High School
Summer Reading List 2007
From

Booklist
*Starred Review*--
"This dynamic collection of short stories, whi

ch revolves aroun

d Argyle West High School's football team, features an ensemble cast of students during their sophomore, junior, and senior years. Some characters appear in only one story, while others appear in many. Written with sensitivity and conviction, the realistic stories are leavened with occasional, often ironic humor. Carter leads off with a witty zinger: the female editorial staff of the school literary magazine offers 'A Girl's Guide to Football Players,' which explains each position, then comments on the personality and relative intelligence typical of the player who does the job. 'A Football Player's Guide to Love,' which follows, is considerably shorter--two lines to be exact: "Love. Well, you see it's, uh, sort of, you know, kinda like when . . . Hey, can we talk about this later?" Readers can leave their stereotypes at the door, as Carter shows the unexpected strengths and the vulnerabilities of his characters. One player becomes a hero by threatening to pulverize some bullies, but he knows he wasn't acting heroically: he just "wanted to beat the crap out of somebody, anybody." Several of the selections were previously published in magazines or other anthologies, but they work with the others gathered here to create a convincing, often affecting mosaic of students today." --Carolyn Phelan


From

Kirkus Reviews--
"It isn't a sports story, nor romance. Instead, 14 short stories reveal the little lessons in life learned by small-town Wisconsin high-school kids—jocks and nerds, pretty and plain, smart and dumb. While football provides a motif, Carter's more common theme is standing up for the little guy. These kids are good people, mostly, who may not want to help some nerdy or retarded kid, but do it anyway. While each story stands alone, they progress in time and return to the same characters often, allowing readers to see them from different perspectives while avoiding stereotypes. A full portrait of Argyle High School emerges, a place where the biggest, dumbest jocks, the abused, the popular, the reclusive, or retarded kids can shine brightly. For reluctant readers or advanced, funny, heartwarming, lovely stuff."



From

School Library Journal

--



"This upbeat collection of interrelated short stories is told from the points of view of the football players, the girls who date them, and assorted other students in a present-day Wisconsin high school. Diverse topics range from the humorous antics of a sophomore, forced by his parents to carry a briefcase to improve his image, who is then approached by the football coach, because "Any kid with guts enough to carry a briefcase can break a wedge," to a six-foot-plus "tough guy" volunteering to teach kids how to diaper and take care of their new siblings, to a teen coming to terms with a middle-aged, retarded cousin who has just moved in. The narrators are male and female, with the predominant characters and their positions or roles listed at the beginning of each selection. This is a delightful, often hilarious, fast-paced read that offers truisms for life. It's a great selection for readers who aren't quite ready for Chris Crutcher's

Athletic Shorts

.–Leah Krippner

From

Amazon.com

--
"On 'Jersey Day' the artsy academic girl wonders suspiciously which football player could have possibly put his invitational jersey on her desk. In 'The Briefcase' the new kid reaps the consequences when his parents force him to carry an expensive briefcase with him to school. In 'Elvis' a brainy girl with this unfortunate nickname receives social aid from an unlikely benefactor--the school's football star. In these laugh-out-loud pieces, Alden R. Carter tells the stories of students from one end of the social spectrum to the other. Jock to loner, academic snob to outcast, Carter explores and shatters the stereotypes behind the relationships, friendships, rumors, peer pressure, sports, bullies, and other assorted forms of mental anguish that come with high school."

You want me to read a football novel???
Well….yes, and it's called

Love, Football, and Other Contact Sports

. According to the book jacket, "love and football are just the tip of the iceberg in this poignant and raucously funny series of interconnected stories." Set in small-town Wisconsin, the stories follow a group of football players, their girls, their friends and their enemies through the four years of high school. Author Alden Carter, who always writes convincingly of Midwest teens, is one of my favorites. Don't miss this one - and then go back and read

Growing Season

and

Between a Rock and a Hard Place

. – Duluth, MN, Public Library

A fun series of interconnected stories centering around members of a high school football team and their girlfriends, exes, and admirers. Narrators' voices are convincing, and the variety of protagonists ensures there's something for just about everyone. A good, solid young adult book with boy appeal that doesn't take long to read. (It looks thicker than some YA books, but it reads quickly.) You could recommend this book to someone who likes Chris Crutcher, or who's outgrown Matt Christopher.
--christophersreading.blogspot.com


From the publisher's sampler for

Love, Football, and Other Contact Sports

:
"Alden Carter makes a triumphant return to the realm of YA with his first young adult offering in years, the laugh-out-loud, slice-of-high-school-life

Love, Football, and Other Contact Sports

. In 'The Jersey'-- one story in this series of interconnected pieces revolving around the students of Argyle High--Shauna is fed up with the sexist tradition of Jersey Day, the day girls arrive at their homerooms with baited breath in hopes of seeing a football jersey on their desk.

Even though her friend Julie finds 'the Day the Cute Girls Get Cute Guys and All the Rest of Us Get Humiliated' romantic, Shauna claims to want nothing to do with such a ritual--not that any football players would look her way in the first place. So when she discovers a jersey on her desk one morning, Shauna doesn't know what to think. Is it a joke? Who put it there? And why does she care anyway?

In Alden R. Carter's hilarious, biting, and true-to-life rendering of high school, things--and people--are seldom what they first seem.



$16.95
ISBN-10: 0-8234-1975-4

ISBN-13: 978-0-8234-1975-3
$8.95

ISBN-10: 0-8234-2165-1

ISBN-13: 978-0-8234-2165-7
Ages 12 & up
Holiday House, Inc.
425 Madison Ave.
New York, NY 10017
www.holidayhouse.com