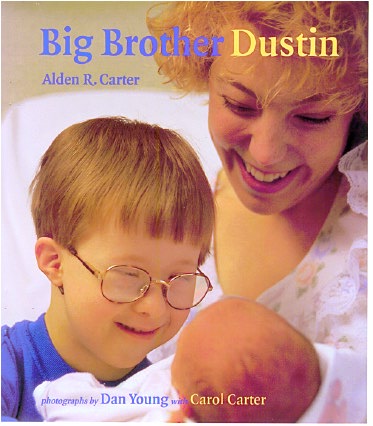 An Oppenheim Toy Portfolio Gold Seal Award winner
A Sesame Street Parents Reviewers' Choice
A Cooperative Children's Book Center Choice
Outstanding Achievement in Children's Literature Award from the Wisconsin Library Association
A Parent Council Outstanding Book
A Children's Television Workshop Best Book for Young Children
Recommended by
The Mailbox Oct./Nov. 98
Recommended Reading List
from the Kansas State Reading Circle
Recommended on the web page of
River Street School: Roots & Wings Educational Catalog
Recommended in About Kids
Selected for the Children's Main List from the Illinois Resource Center

Recommended by Kennedy Krieger Institute, Baltimore

What's the baby's name going to be? A baby sister is on the way and Dustin wants to be the best big brother ever! There's lots to do and lots to learn. He helps his dad put together a crib and hang a mobile. He helps his mom get the baby clothes ready. He even goes to a class to learn how to change diapers and give a bottle. Everything is just about ready, but no one can think of the perfect name for the baby. His mom, dad, grandma, and grandpa are all stumped. Can Dustin think of the perfect name in time?
"Dustin, a boy with Down syndrome, prepares with his parents and grandparents for the arrival of his baby sister. Beautifully told and marvelously illustrated with photos that capture the ups, downs, and wonder of expectanthood across generations." --Oppenheim Toy Portfolio
"While there are numerous books on the subject of "our new baby," this photo-story is unusual. The older sibling, Dustin, a much-loved participant in the family, is a boy with Down syndrome....Never condescending, [the text] describes the various stages of preparation for the eagerly awaited event.... Dustin's painstaking selection of the new baby's name is both appropriate (a tribute to both his grand- mothers) and a true climactic moment. Handsome color photographs supplement and extend the narrative in a documentary style, highlighted by classically composed closeups of Dustin, his mother, and the new baby." --Horn Book
"All librarians will want to put this title on their "new baby" bibliographies.... This charming introduction to the topic is illustrated with colorful, full-color photographs that capture the everyday world and experiences of young children.... [Dustin's] joy at being a big brother shines in the photos. The book is crisply organized with an easy-to-read text and an appealing snapshot album at the end with pictures of Dustin and MaryAnn as she begins to grow."
--School Library Journal
"This welcoming-the-new-baby story is most remarkable for what isn't stated in the text: Dustin is a child with Down syndrome. The author's restraint lets the lively, colorful photographs that illustrate this picture story speak with shining clarity: Dustin is a happy, helpful, capable child."--Cooperative Children's Book Center
"A good book for any child who is getting ready for a new baby." --Mid-Del Schools, Midwest City, OK
"I love the positive attitude this book takes in exploring the arrival of a new baby and children with special needs."
--M. A. Robbins, Lower Columbia Media Association
"Show[s] that Down syndrome children can help and be a vital part of the family."
--South Jersey Regional Library Cooperative
"Colorful photographs depicting family life at its best help to portray the power of this warm, funny, and honest love story. This book makes a strong contribution to the literature on the worth, value, and ability of children with Down syndrome." --Christian Schools International
"The fact that Dustin is a Down syndrome child doesn't limit the use of this book to families where this is the case. I was impressed with the joy that radiates from the pages."
--Sharon Kennel, Provident BookFinder
"Dustin's joy of brotherhood shines in the photos with his sister. A good addition for any elementary library."
--Tacoma Public Schools
"An excellent book for parents to use in the situation of explaining the addition of a new child into the family. The photojournalists do a super job." --Top of Texas Reviews
"[One of the] new titles from Albert Whitman & Co. [that] gently and warmly deal with situations that many children face in today's world." --Library Lane
"A multi-purpose book, the simple format of Big Brother Dustin introduces several important topics, including the special, irreplaceable worth of those with Down syndrome." --Christian Library Journal
PLEASE NOTE
In the spring of 2004,
Big Brother Dustin
reached the end of its initial publishing life. The author hopes to see both returned to print eventually through a specialty publisher or a group concerned with Down syndrome education. He would greatly appreciate suggestions from readers at <acarterwriter@tznet.com>
Albert Whitman & Co. $14.95.
Available from the author.