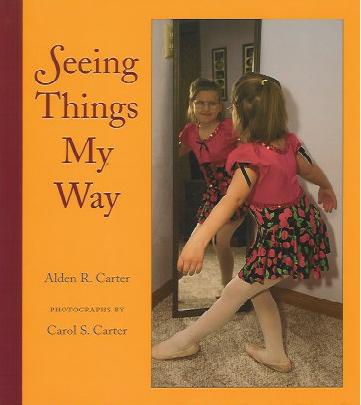 AN OUTSTANDING BOOK FOR YOUNG PEOPLE WITH DISABILITIES from the International Board on Books for Young People (IBBY)

A COOPERATIVE CHILDREN'S BOOK CENTER CHOICE FOR 1999

A BEST CHILDREN'S
BOOK OF THE YEAR
from the Bank Street College of Education

Selected for EXCEPTIONAL PARENT LIBRARY

Selected for the Children's Main List from the Illinois Resource Center


Recommended by Kennedy Krieger Institute, Baltimore


Amanda's dad says she's 'one tough cookie.' And he's right: you've got to be when a brain tumor robs you of much of your sight. Get to know Amanda and meet some of her remarkable young friends who have lost their sight or have never seen at all--or at least not in the way most of us imagine seeing.

"A heartwarming narrative related by a visually impaired child. In a matter-of-fact manner, second-grader Amanda explains how she deals with her sight loss in her daily life. The full-color photographs on each page show the girl and others using various tools and aids (Braille, magnifiers, guide dogs, etc.) to help them learn, work, maneuver safely, and communicate. Amanda describes how she and others enjoy social activities, learn new things, and work productively, helping readers realize that impairments do not make a person think or feel differently. The text evokes compassion and empathy by presenting real people living normally despite their impairments."
--School Library Journal

"The author of Big Brother Dustin (1997) offers another title about children with special needs. Amanda is vision impaired, the result of a tumor. Although she can see, her sight is blurry and it may worsen with time.... Carol Carter's color photographs portray Amanda as a cheerful, involved seven-year-old who takes her limitation very much in stride. Several photos are deliberately blurred to demonstrate what Amanda sees. A good choice for classes with visually impaired members, this should also be helpful in explaining differences and dispelling prejudices." --Booklist

"A beautifully written and sensitive non-fiction book... Seeing Things My Way is a wonderful and necessary addition to any library." --Southeastern Pennsylvania School Library Book Reviewers

"Inspiring. Our students need to hear this message." --Arlington Independent School District, Arlington, TX

"An outstanding book that every library should have."
--Lower Columbia Media Association

"Lots of humor and no self-pity." --Ft. Worth I. S. D.

"Wonderfully inspiring!"
--Highlands Regional Library Cooperative

"Wonderful!" --Delaware County Library System

"A very uplifting insight into what it is like to be vision-impaired."
--Monterey Peninsula Unified School District

"There is no evidence of self-pity, but an attitude of courage and strength, of being able to accomplish almost all of the same things in life that sighted people can. There is nothing I don't like about this book!...None of us stands alone and tomorrow we might be that person who needs assistance and understanding, not made fun of, pitied, or ridiculed, but accepted as a valuable, unique person.
--Ann Stokes, Bering Strait School District, Alaska

"Excellent representation of inclusive practices."
--Lincoln Public Schools, Lincoln, Nebraska

"A very important book to help other children understand what it is like not to have good vision."
--Tacoma Public Schools, Tacoma, Washington

"An encouraging book for the healthy as well as the handicapped child." --Christian Schools International

"A visually impaired child heartwarmingly tells this story of how she deals with the loss of her sight every day. Full color photos show Amanda in action. The text presents real people living normally despite impairments in a compassionate and empathetic way."
--Essex County Elementary Media Association, West Orange, New Jersey

"A terrific children's information book."
-- Delaware Valley Elementary School

"We...know that Amanda will do fine, whatever happens."
--Vidette Times, Vidette, Indiana

"Explains what schools can do for vision impaired students to have a fun and full life. Special!"
-- Sanger, California, Unified School District

"Despite some limitations, [Amanda] leads a very happy, normal, giggly-little-girl life. This is a personalized and engaging way to introduce handicaps and limitations; color photographs really allow the reader to connect with
Amanda and her story." -- Infotech, Board of Education, Public Schools of North Carolina


"Excellent...among the very best of its type."
--Fort Worth Christian School Book Review Group

PLEASE NOTE

Seeing Things My Way

reached the end of its normal publishing life in the summer of 2004. The Author hopes to see it returned to print eventually through a specialty publisher or a group concerned with vision disabilities education. He would greatly appreciate suggestions from readers. Contact <acarterwriter@tznet.com>.

From Albert Whitman Inc. $14.95.
Available from the author.